hey everybody!
so i thought i'd create a nice little avpm meme-
i hope you like it. Here goes.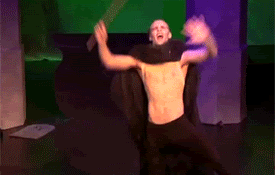 A Very Potter Musical Meme - by
deadly_lemonade

5 Favourite Scenes:
1. Act 2, Scene Nine- The finale
2. Act 2, Scene Five- The "Not Alone" Scene
3. Act 1, Scene Four- Draco's PIGFARTS scene
4. Act 2, Scene Two- Draco meets Voldemort
5. Act 1, Scene Five- Voldemort's Reveal

3 Favourite Songs:
1. Not Alone
2. Granger Danger
3. To Dance Again or As Different As Can Be

How many times have you watched the show?
Way too many times. I have it on my iphone and my computer and have literally had to on constant repeat since it came back online.

5 Favourite Characters:
1. Draco
2. Voldemort
3. Goyle
4. Harry
5. Quirrell

3 Least Favourite Characters:
1. Bellatrix
2. Crabbe
3. Neville

Favourite Member of the Trio:
Harry.

Favourite Champion:
Draco.

Favourite Couple:
This musical makes me a sucker for Harry/Ginny.

5 Favourite Quotes:
Obviously I have way more than five, but here goes-
1. VOLDEMORT: I learned that life is really messy, complicated and it doesn't turn out the way that you think it will. And that you think killing people might make them like you but it doesn't, it just makes people dead. I got killed by a two year old and it's really embarassing and everyone says when you gonna come back Voldemort, when you gonna take over the world? It's on me, it's all on me. And I'm sitting there by myself because no one wants to help... and I say to myself. Maybe with Quirrell things would be ok.
QUIRRELL: Is ok good?
VOLDEMORT: Quirrell! Ok is wonderful!
2. Rumbleroar's the headmaster at Pigfarts. He's a lion, who can talk.
3. I would give her an eight. An eight point five. Or a nine. Not- not over a nine point eight. Because there is always room for improvement. Not everyone's perfect, like me. That's why I am holding out for a ten, because I'm worth it.
4. And don't suggest a giant slide or a trampoline... 'cause we've already tried those.
5. Hey you.

5 Favourite Lyrics:
1. When I rule the world I'll plant flowers.
2. Did you know that here at Hogwarts, we've got a hidden swimming pool?
3. Sipping tea by the fire swell. Pushing people in is fun as well. I like folding all my ties. And you have no friends, hey that's a surprise.
4. No way this year anyone's gonna die, and it's gonna be totally awesome.
5. What? What the hell is this? You expect me to sing about her? I don't care about her.

A character you wish had been in the musical:
I'm not sure, maybe the weasley twins would've been nice.

Something that could have been done better:
Gosh I have no idea, I love the whole thing.

Favourite Harry moment:
HARRY: I was prepared to die to save this people.
VOLDEMORT: But you didn't!
HARRY: Yes but I meant to.

Favourite Ron moment:
"Maybe it won't be that bad Harry- maybe you'll just have to fight like Mushu from Mulan."

Favourite Hermione moment:
"I used to think looks weren't important, and now I think they're more important than anything."

Favourite Ginny moment:
"I thought we were gonna be together forever, but we're not."

Favourite Voldemort moment:
TOO MANY AMAZING MOMENTS (sorry for over quoting!)-
"Ok, just relax with the dark king, ok, I watch you wipe your butt daily. You can call me Voldemort we're there- we've reached that point."
"I never- I never ever really ever- I never really ever ever- really ever considered another reason for me being so evil because normally I just uh- I just kill people that try to get me to open up you know. Oops."
"Now two people are mad at me."
"Don't make me laugh, I'm pissing!"
"You little shit, you got me, you got me, oh that is so embarassing. That's the second time that that's happened."
"Voldemort out bitches."

Favourite Dumbledore moment:
HARRY: Dumbledore, why do you trust Snape so much?
DUMBLEDORE: Because I love him.

Favourite Snape moment:
"I'll be in the drawing room, painting a picture of the stupid looks on your faces."

Favourite Draco moment:
There really are too many, but I'll limit myself this time-
"I can't go to Pigfarts it's on MARS. You need a rocketship. Do you have a rocketship Potter? I bet you do. You know, not all of us inherited enough money to buy out NASA when our parents died. Look at this, look at this, look at it- Rocketship Potter, Starkid Potter, Moonshoes Potter traversing the galaxy for intergalactic travels to Pigfarts. Oooh!"

Who loves Zefron the most?
Voldemort definitely loves Zefron the most. He put a piece of his soul into him!

Which character would you ask to the yule ball?
Cedric, because although he's a pain in the arse. I'm sure he'd FIND a way to entertain me.

EITHER/OR

Quirrellmort or Snaledore: Quirrellmort ftw!
Pigfarts or Hogwarts: Pigfarts... I need to look into getting a rocketship.
Dumbledore or Rumbleroar: Rumbleroar!
Moonshoes or Starkid: Moonshoes.
Ron/Hermione or Draco/Hermione: Dramione
Death Eaters or Dumbledore's Army: Death Eaters plz.
Really, really skinny, Ginny or Really, really skinny, Cho Chang: Ginny.
Stuppory or Diggory: Stuppory.
Oh my wizard god or Oh my Rowling: Oh my wizard god- I've decided to actually start saying this.
Flowers or Snakes: When I rule the world, I'll plant flowers.
Act One or Act Two: That's tough, but I think act two... just! :)
Dumblebore or Slumbersnore or Bumblesore: Dumblebore. x]
Hermione Granger or A Rocketship: A Rocketship- to PIGFARTS!
Sword or Wand: Wand.
Time Turner or Horcrux Seeking Medalion: Time Turner.
Beautiful or Super-Mega-Foxy-Awesome-Hot: Beautiful. :)
A Giant Slide or A Trampoline: A trampoline! How hilarious would it be seeing Voldie trying to get into Hogwarts bouncing on a trampoline. "We need you bounce higher you swine!"




And that is all! Thank you. XD


If you want to do the meme yourself here it is-



do let me know if you're doing the meme...
i'd love to see your answers! ♥



.